Literally. Things are LITERALLY falling apart in our rental house. It is raining things to fix.
By now, you might be wondering if there's a chance I'm making all this up — because, really? If I didn't have photo evidence of what follows, maybe some of this stuff might be hard to believe.
A couple weekends ago, there was a thunderous crash from upstairs while we were all in the living room. When Al and I looked at each other, there was actual fear on his face (something I'm not sure I've ever seen). Is someone in the house? we asked with our eyebrows, and he started up the stairs. Peaches went charging after him despite my protests, and a moment later she came running back out of our bedroom.
"The closet is broken! The closet is broken!" she exclaimed. I had to finish nursing the baby before I could see what she meant.
An entire shelf just ripped right out of the wall because — shocker — it had been improperly installed. My clothes were covered in sprinkles of plaster and paint. Al contacted the property manager, but in the end he just wound up fixing it himself (and even surprised me by hanging everything back up while I was dealing with the kids). But this is what I meant when I said the house is a Monet: look! It features a spacious walk-in closet!…with collapsible shelves. Not super functional, but damn, it sure seems promising.
A few days later, we were eating dinner with Al's parents (immediately after my parents left California, his arrived for a month-long stay). Al followed his mom into the kitchen, and I was at the table talking with his dad.
"I really like the layout of this place," he told me.
"I totally agree!" I said. "It's such a beautiful house. It just hasn't been very well maintained–"
Literally AS I said those words, there was a loud cracking noise from the kitchen. Al's angry voice swirled amidst some additional commotion — "You are KIDDING me!" — and I jumped up to see what was happening.
This time, Al didn't even bother contacting the property manager — he just went to the garage and got his tools, and he and his dad spent some time putting the vent hood back together.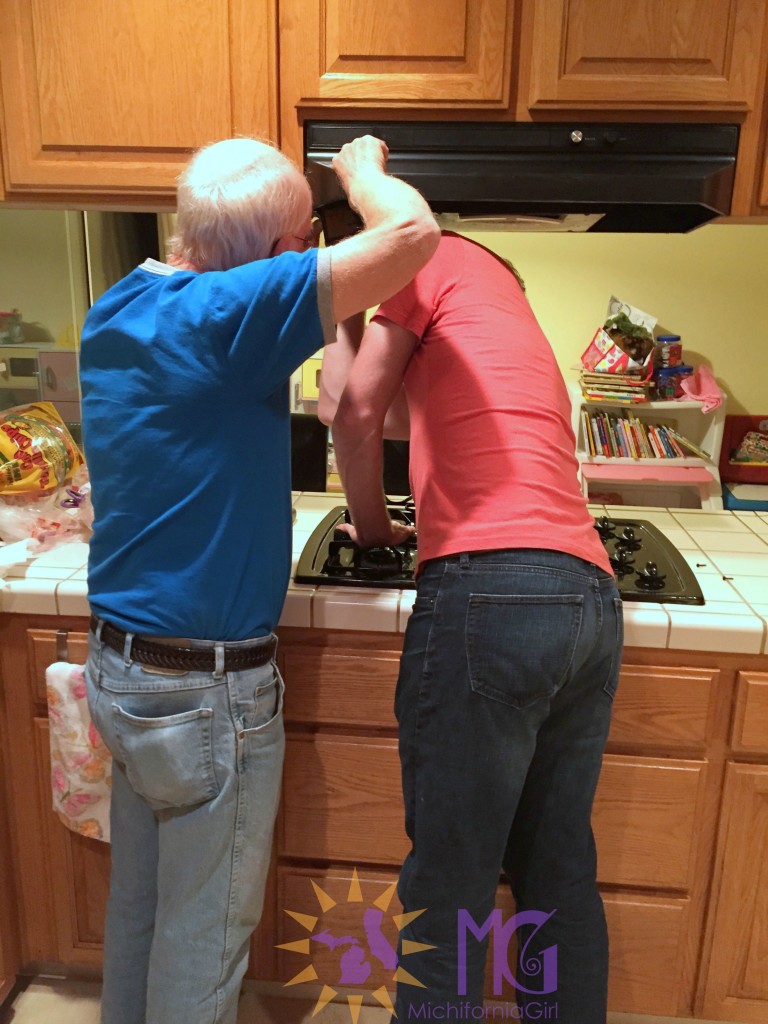 Okay. So neither of those things turned out to be particularly dangerous, which is always a plus. But then I went to unplug my breast pump — which hadn't been used in several hours — from an outlet behind the couch, and the prongs were so hot they scorched my skin. There was an actual blister on one finger. When we first moved in, we told Property Manager that some of the outlets were so old and/or faulty that our appliances didn't stay plugged in. He replaced a couple of the more obvious ones, but clearly missed a few.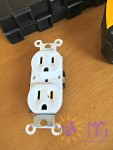 When Al removed the receptacle to install a new one, we noticed that it was literally singed at the bottom. (Um, hello fire hazard.) He swapped out one additional outlet, too — hopefully the rest of them are fine for now. We're trying not to bother Property Manager with all of this, so we've just been emailing him after the fact: This happened. We fixed it. Just keeping you posted, and you might want to tell the landlord. He probably trembles a little every time he sees our name in his inbox. Sorry, Property Manager. We didn't build this house. We're just trying to (safely) live in it for a minute.
And then! Just before I was ready to finalize and publish this post, I took a "break" to put away some laundry in my daughter's room. When I went to straighten some linens in the adjacent bathroom, the towel bar clattered to the floor — because that, like everything else, decided to rip itself out of the wall.
I was not using the bar to do chin-ups. I was not stacking cinder blocks on top. It could not even bear the weight of one towel.
All of this stuff has been pretty harmless so far. But like, are the floors okay? Will our bed just come crashing through the planks into the kitchen as we sleep? How about the roof? Hope that doesn't cave in.
If all the walls are still standing by the time our lease is up, I'd say Al's handiwork should single-handedly earn us our security deposit back. Maybe even if they all fall down.