The second you decided to step in front of a classroom, you agreed to spend your day on a stage.
They are watching you all the time: the students, the administration, the parents, the media, the world. They are looking at your test scores. They are examining your data. They are hoping you will be the one to save education, to prove that our children are just as brilliant and well-trained as any emerging graduate from anywhere.
It's sometimes difficult to experience that level of scrutiny. The parents, sitting at the next booth over, overhear when you order wine during dinner. The teenaged cashier at your local grocery store recognizes you from the school hallways and peruses your purchases. The kids, during class, notice everything: Toenail polish. A quarter-inch trimmed from your hair. The fact that you're wearing the same shirt as last Tuesday.
When you spend that much time in the spotlight, you become accustomed to shouldering your fair share of blame. Didn't you know? If the students aren't engaged, it's because you're not engaging; your list of suggested school supplies is unreasonable and greedy and demanding; it is probably definitely your fault when a kid gets an E — you're the one who gave it to him, after all.
You're in the thick of it now. The long haul. Any sort of "break" is far behind and far ahead of you (Thanksgiving will come some day, don't worry — but first, conferences). Why are you doing this, again? Maybe you went into this career to pass along your love of a specific subject, or to connect with the kids: to help and guide and protect, to save them when they need saving. Sometimes, though — especially recently — it feels as though the system isn't quite the way you imagined it would be when you signed up to do this job.
But there is something you should know — something you used to know, perhaps, but might be starting to forget; something that is imperative to remember. You should hear this.
Last week, I ran a giveaway on my Facebook page. The protagonist of my book is a teacher, so that's who I wanted to meet: I asked readers to say a little something about an important teacher in their lives, and I expected a sentence. Maybe two. Something like, "Middle school with Mr. Doe was awesome! Let me know if I won that Amazon gift card!"
But the responses — paragraphs upon paragraphs upon paragraphs — were breathtaking.
Teachers, watch what you're doing:
You are changing them. You prove to your students that they are so much stronger than their fears; you show them they can overcome the scary stuff and accomplish goals they didn't even know were bubbling within.

You are supporting them. You teach them that they are important, that they are more than just a number in your class, that you are cheering for them — and to some, you may be the only cheerleader they have ever known.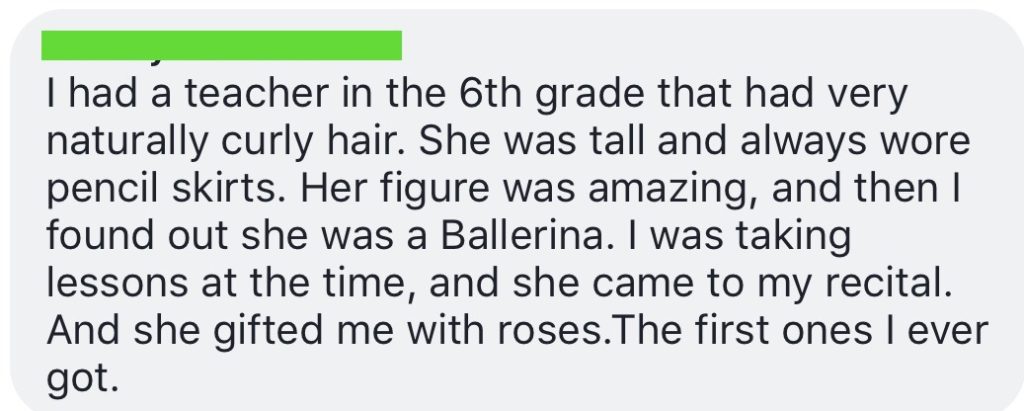 You are inspiring them. You challenge their beliefs, unveil hidden talents, convince them they love the people and the things they once claimed to hate.

You are nurturing them. They come to you with questions they can't ask anyone else, whispering in hushed tones, trusting you. You stay with them — before school, after school, throughout recess, during lunch — because they need you for a whole lot more than algebraic equations and grammar lessons.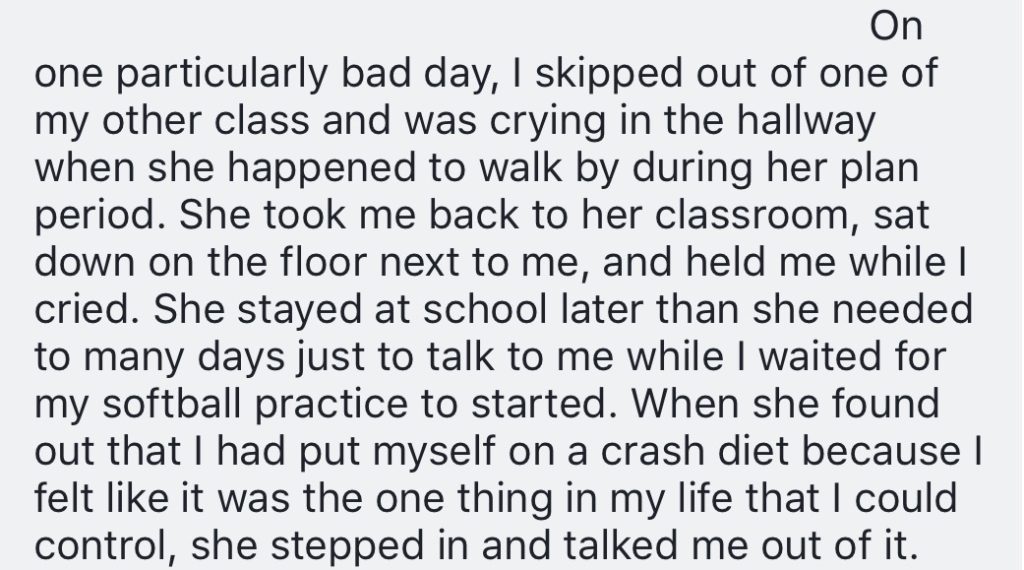 You are encouraging them. When they doubt, you don't. You see them — you see them — and they remember.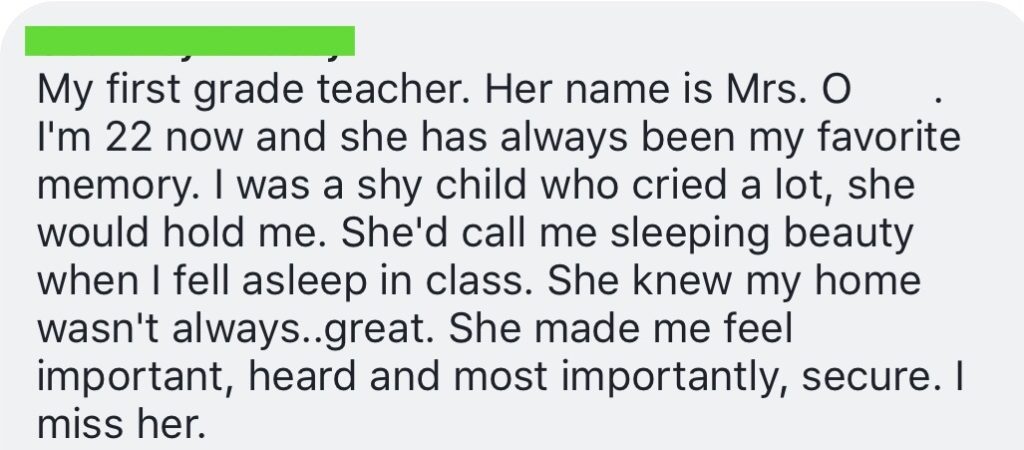 You are saving them.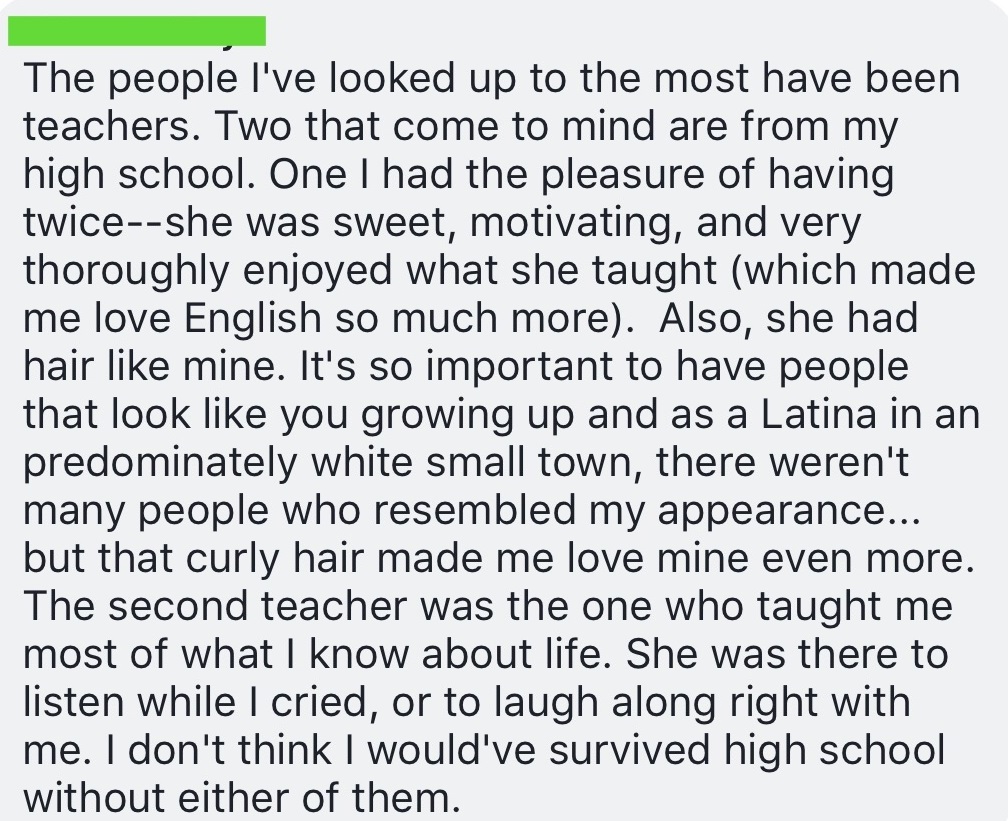 You are saving them.

You are saving them.

Over and over, these comments concluded with similar pleas: I wish I could go back and tell him I appreciate everything he did. I would love for her to hear how much she meant to me. Some of your former students may not know yet what they've learned, or where to reach you, or how to say it. But you should know: you are not as replaceable as the current culture would have you believe. You are not failing.
Somehow, the lessons that aren't in the curriculum often feel like the most important.