I've been here a year.
One whole year. After a year of being in a place, it's maybe supposed to start feeling like home, I suspect — but sometimes I still look around and think, Wait a second. I LIVE here? This usually happens while I'm driving, for some reason. I'm on the highway and at some point I inevitably notice I'm heading toward a mountain and there is this almost out-of-body experience. I have to actively remind myself, This is my HOME. There are mountains. There is not a whole lot of space or fresh water or lush green grass, but there are mountains, yes, and this is where I live now.
Am I weird? (I mean, yes, but am I weird because of this?) What's the timeline for this kind of thing?
Maybe it's because this alleged "year" actually feels like twenty minutes. Okay, three months. Four, tops. The other day I called someone to make an appointment for something and I said, "I'm not sure exactly where you're located — we just moved here from Michigan a couple months ago." Wait…what? That's not right. "I mean, it's been almost a year or something. Anyway. I have no idea where you are."
The phantom pain I mentioned is still there: in my mind, I continue to see Michigan roads and destinations about as often as those in California. Sometimes these visions hit me out of nowhere, and sometimes, if I close my eyes and really concentrate, I can almost smell the crisp fall air we didn't get to experience last October, or hear the gravel road under my tires on the drive to work. It's so strange to have two alternate realities swirling around in my brain.
I don't miss people any less. In fact, I would like to ship out the following things, please: my parents, three to four of my closest friends, and a handful of summer thunderstorms to unleash upon command.
Now there's something I can get behind. THAT would be totally doable.
Of course, it's worth mentioning that some of Al's colleagues have developed into a wonderful, supportive network of friends. We're fortunate that he landed on a team that really seems to gel, and I honestly don't know what we'd be doing right now without them. I didn't expect that when we moved out here a year ago — in fact, I kind of anticipated that my only acquaintances would be other mothers, but so far that's been a big fat fail. That's mostly my fault, I guess: when you don't join any mom groups and just about everyone in your rental neighborhood is retired, it's sort of tough to make mom friends.
By far, the coolest thing about being out here has been the ability to pursue something I'm truly passionate about. I have a "Five-Year Goals" list that I typed up and posted in my makeshift office, and it has only two columns: 1) Goal and 2) Date Accomplished. I blatantly stole this idea from a friend of a friend, by the way — although his goals are comprised of intimidatingly physical, badass nature excursions, and eighty percent of mine have something to do with writing.
I am openly stupefied by the number of goals I've been able to check off this first year: things I expected might take at least the full five years, like "Get published in print" and "Write an article for a major online publication." Every time I enter something into the Date Accomplished column, I actually, LITERALLY sit there shaking my head, back and forth, back and forth. Every time. That's a semi-embarrassing visual to give you. Its just that, in those moments, I'm overwhelmed with gratitude — they are small blips of Maybe we moved here for a reason. They are flashes of happiness and achievement — proof that, even if we don't stay here forever, this is a tiny adventure I was meant to take. They suggest that I might be on the right path, just for right now, brief and jagged as it may wind up to be.
I still can't believe it's been an entire year, but one scroll through my phone proves that it has, in fact, been that long. When I see photos of Peaches from last May, the difference in her face and in her posture absolutely amazes me. She is definitely not a baby anymore. Not even a toddler. I thought she was already out of that stage when we moved — she felt so old and capable, especially compared to the squishy newborn who arrived a mere three months after we landed in California — but she wasn't. She was still so little then. The change from two-and-a-half to three-and-a-half is staggering.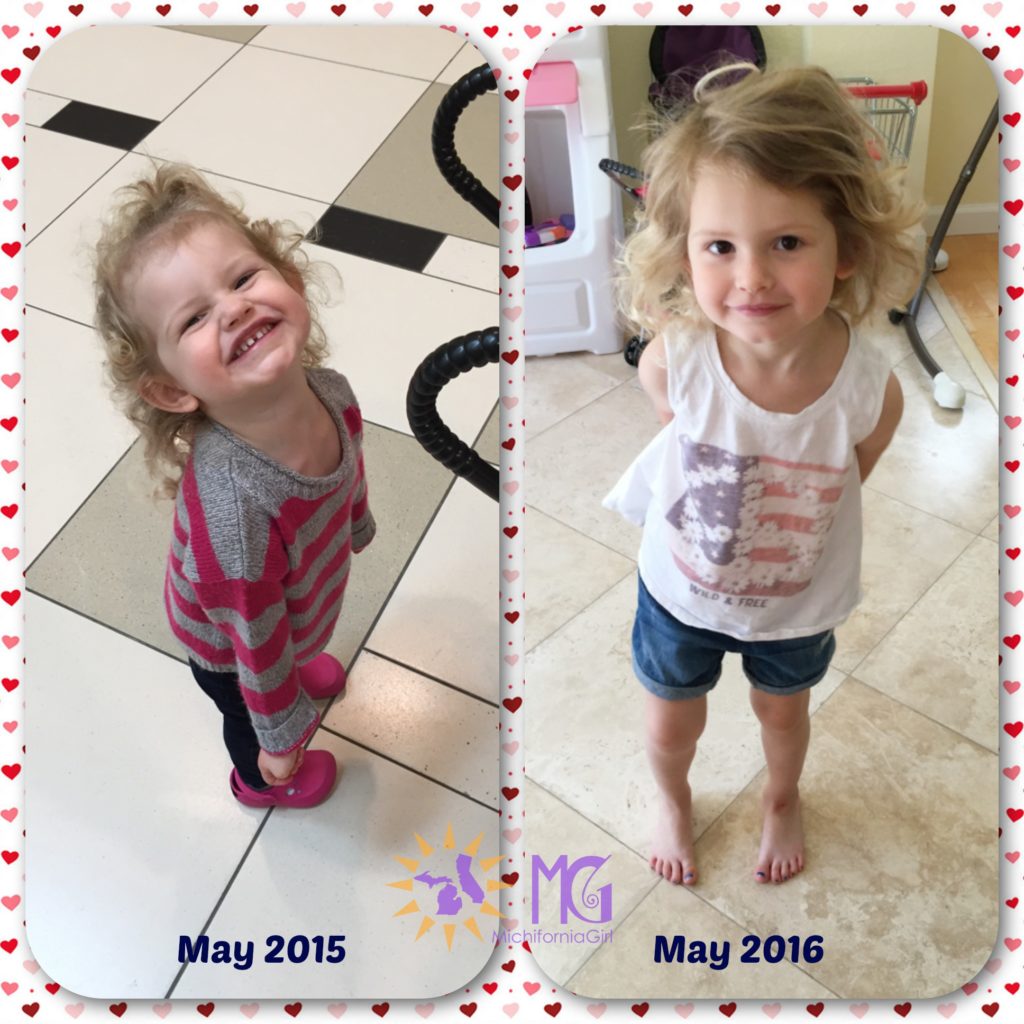 Of course, I'm sure I'll experience the same disorienting sensation when she is four, and five, and twelve: She was so little when she was three. She was so little when she was ten.
When I look at those photos and then at my daughter in real life, I feel like I missed it. I worry I was so busy moving and birthing and nursing and stressing that I didn't even see her growing up. I'm afraid that I spent so much of this last year trying to write ALL THE THINGS that I missed the exact moment when she transformed from a toddler to a little girl.
The cliché is true: it really does pass in a blink. A BLINK. Sometimes I start to get a little panicky about it, like I should be using every single second to just stare at my babies so nothing is allowed to escape me.
I wanted to prove — to myself, mostly — that I could do this writing thing; especially when I lost my identity as a teacher, it felt important to try to find it somewhere else. I love being a mama. I love my children so much I sometimes cry for no reason, because there's nowhere else to put all that emotion and it has to spill over somewhere. But their existence does not replace the dreams I've had since I was a child myself.
Maybe that's a terrible thing to admit.
Maybe tomorrow I'll throw my laptop in the trash and spend every waking moment so wrapped up in my kids that they won't even be able to breathe their own air. Maybe that's the only way to MAKE SURE I don't look back on year-old photos and think, When did that happen?
Or maybe I will just get better at finding that elusive balance.
We plan to officially inhabit the new home by mid-June. I've spent the majority of the last year feeling "stuck" inside the walls of our rental house: pregnant and exhausted at first, and then blessed with a precious, miraculous infant whom I am in love with but who will ONLY NAP IN HIS OWN FRICKING BED, rendering it semi-impossible to leave the house for any length of time. And since the rental backyard is an attack zone of dive-bombing yellow jackets (and is also surrounded on all sides by watchful neighboring windows), I've barely ventured outside, period.
Whenever I hint at homesickness, people say, "But don't you just LOVE the weather in California? Isn't it just AWESOME?"
Is it? I mean, I hear it's pretty sunny, but I usually see it through a window. With a few exceptions, I feel like I've basically spent the last twelve months alternating between two chairs: rocking and desk.
I imagine we will be here for at least another year. After all, we're closing on a house — although you never know what may happen, and this We-Shall-Suddenly-Up-And-Move-To-California! saga has certainly taught me that sometimes long-term plans are not to be trusted. But hopefully, before my second Cali-versary, I will have the chance to get out of the house so I can experience more of the good stuff California allegedly has to offer: More mountain-gazing while sipping wine. More time oceanside. More lounging lazily in the sunshine with a book in hand. More driving down the coast, more sightseeing with my children, more parks and playgrounds and kiddie adventures. Those are some unofficial, unquantifiable, non-writing goals for the next year.
But first, we've got some packing to do.