So we tried again.
This past weekend, we drove alllll the way back to the pumpkin patch for a redo. It was important to me that P be able to replace her "yucky" memories with new ones — and I needed to do the same. Part of phobics' irrationality is that we tend to associate completely unrelated things with the sick event, even though we know they don't really have anything to do with anything. (i.e. "I wore this outfit the last time someone threw up. Better not wear this outfit anymore." Or we might remember the exact date of the last time we got sick and then become uneasy around that same date every year. Ridiculous, right? We know.) Anyway, since the pumpkin patch threatened to become a semi-scary place, I forced myself to go back ASAP.
What a relief to see the happy, non-feverish version of P! First stop: the face-painting clowns. She chose the glittery rainbow option and sat exceptionally still.
Next up was the pony ride, which was something she'd never experienced before. The one with the pink tail was available, thank goodness, or there may have been a tiny toddler riot. I thought she might chicken out at the last second, but she let Al lift her onto the saddle and then proudly completed three laps.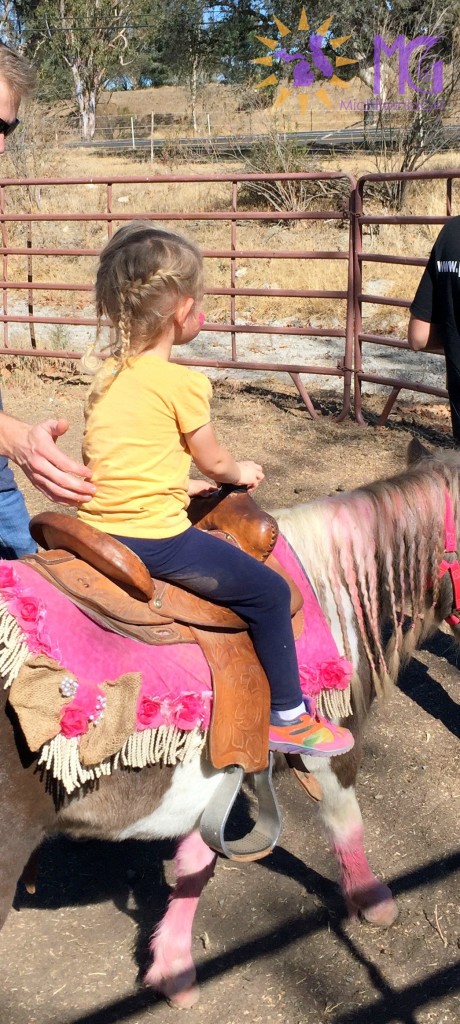 An even bigger hit than the pony? The train. P got her own "car" with an individual steering wheel, and a tractor pulled her (and a few other tinies) around a field. She always wants to "drive" our cars, so she thought she was HOT STUFF. Definitely didn't want to get out of this one — she could have spent all day in that little blue car.
When it was time to pick our pumpkin, I pushed P in a pink wheelbarrow and we wandered through the patch. She was much less interested in the pumpkins than in some kids who were climbing a tree nearby. I love my girl — she wants to play with any kid, any time, no matter how old they are or what they're doing. Anyone under the age of ten is "my friend." These particular boys were about seven or eight (and much more adept at tree-climbing than my two-and-a-half-year-old), but if you follow my Instagram, you know she tried! Eventually, she helped us choose a rather enormous family pumpkin, and then selected a mini one for herself.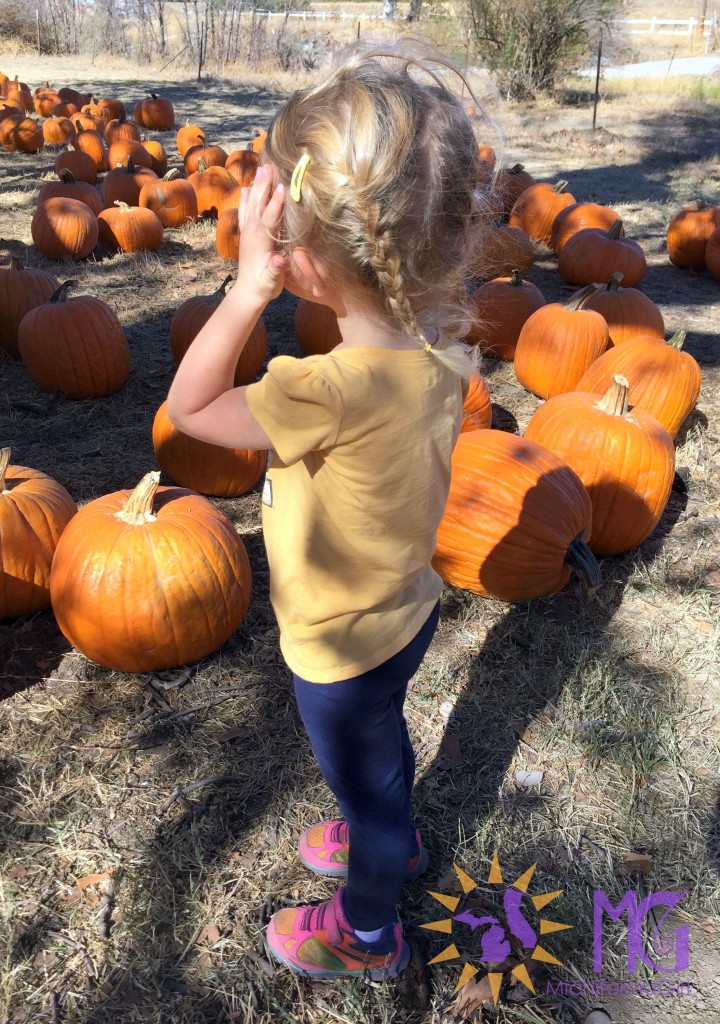 Baby B slept through most of the festivities. I love his cuddly newborn phase, but I'm sure it will be fun when he can interact with his sister (and, um, hopefully there will be minimal fighting and maximal playing).
I found it a little bittersweet that we were at a pumpkin patch on a ninety-degree day in October (I mean, that's not fall, okay?), and was also sort of saddened by the absence of cinnamon sugar donuts and freshly-pressed cider and crisp autumnal colors. But there was more here for P to do, and there literally wasn't a cloud in the sky; and what a relief that we were able to return to the patch the very next weekend and have everything turn out the way we'd originally planned.
Now when she talks about the pumpkin patch, she raves about the pony and the train instead of remembering the incident in the car. For me, the terrible sound of her getting sick is fading into the distance. Memories: (mostly) replaced.