For the past few months, I've been having kind of a tough time breathing. Sometimes it happens after climbing the stairs, sometimes it's while I'm just standing around in the kitchen, sometimes it's during a drive. Suddenly, I am acutely aware of how hard my heart is working: it pounds erratically inside my ribs, skipping beats, and every so often there are stabbing pains. Even when it appears that all is well — and sometimes when I'm not particularly exerting myself — I get dizzy and have a difficult time drawing a full breath. It feels like someone is sitting firmly on my chest, or like I'm only working with one lung instead of two.
I do not have asthma. I am not/never have been a smoker. But despite some genetic risk factors, I'm not very careful with myself sometimes. (Eek.) I consume Double Stuf Oreos literally every single day. I over-butter, over-cheese, and wayyyyy over-salt. Some might say I haven't legitimately exercised since high school softball practice — unless you count lifting a twenty-five pound baby while sprinting after an energetic preschooler. (I mean, aren't you supposed to count that? I totally have been.)
One night, several weeks ago, I ended up in the ER. They drew some blood, concluded I had "not yet" had a heart attack, and told me to follow up with a cardiologist. Because California has eleventy billion people in it, getting an appointment anywhere is not always easy — but a specialist finally set me up with Step One of testing: a 24-hour heart monitor.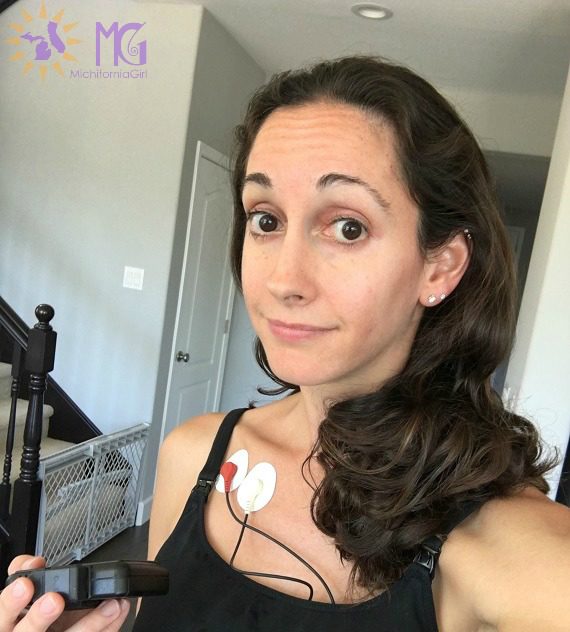 It took a grand total of one minute to hook up: she stuck some things to my skin and handed me a black box with a clip on the back. "Do not shower for 24 hours," she said, and sent me on my way.
She also gave me a sheet of paper for notes — I was meant to record when I felt anything unusual, like skipped heartbeats or pressure in my chest.
But since I've always kind of been a diarist, I took notes on other stuff, too.
9:30 AM: Get hooked up to 24-hour monitor. Two electrodes above right breast, one on right hip, two on left hip. Specialist explains there is a new version which is super tiny and sticks right near your heart and is completely wireless, but their office is not "fancy" enough to have progressive things like that quite yet. (…Yikes? Hope the doctor is fancy enough to make correct diagnoses.)
11 AM: Nurse baby, who is very curious about new contraption. Grab nearby robe to drape around my neck like scarf. Still have to pin his roving arm down to his side.
11:30 AM: Wires keep snagging on cabinets and drawers as I make lunch. Super annoying. Attempt to stuff wires in pocket alongside black box. Pocket not nearly large enough to accommodate everything.
1 PM: Go to bathroom for first time since appointment. Kind of tricky to hold black box AND pull down shorts AND keep wires away from toilet. WAIT A SECOND. Start thinking about how many other people have worn this device before me. Wonder if said people were quiiite as careful to not get pee on wires. Think about how many times black box has been in a public bathroom. Remember that this thing needs to come to bed with me tonight and I don't even like to get in bed while wearing outside clothes because germs.
1:02 PM: Lysol black box.
1:03-1:15 PM: Worry that I have broken the black box.
1:16 PM: Check everything. Still working…I think.
2:25 PM: Change flailing baby's diaper. Rogue leg catches wire and unsnaps chest electrode. Panic for a minute. Plug electrode back in. All seems normal now, but hoping I did not just skew the results.
5:00 PM: Wonder if this is how people used to feel when they wore beepers.
8:00 PM: P sees "stickers" while we are all getting changed for bed and kisses each one in turn. "They don't hurt, honey," I say. "That's okay, Mom," she assures me. "I take care of people."
8:45 PM: Final nursing session of evening. Baby stares suspiciously at electrodes the whole time but does not interfere.
9:00 PM: Lament the fact that there will be no shower tonight. Am germophobe. Would conduct ENTIRE LIFE in shower if possible.
11:00 PM: Bedtime. Initially concerned about discomfort while sleeping, but place black box awkwardly by pillow and try to sleep on back-ish instead of side like usual. Not terribly inconvenient.
3:00 AM: Baby wakes to eat. Forget I am wearing monitor and accidentally yank out two wires while exiting bed. Results certainly skewed now.
9:30 AM: Gratefully peel electrodes off. Sweet freedom! Pockets are gloriously empty!
I'm supposed to meet with the cardiologist next week to discuss the results. Statistically, a thirty-something-year-old woman is not exactly high-risk for heart trouble, but I can't shake the feeling that something must be wrong. (Of course, I'm also the kind of person who gets a headache and immediately thinks, Ohnoohnoohno I am obviously having a stroke, so my instincts are clearly not to be trusted.) It's most likely anxiety- or stress-related, according to everyone on earth — and since I'm not the coolest cucumber, hopefully they're right.