Moving across the country forces you to reconsider what you actually need for Baby #2. If it's not an ABSOLUTE NECESSITY, we don't want to unpack it, so we've had to take a good hard look at which items make the cut.
When I was pregnant with Peaches, we were fortunate enough to have a beautiful shower, and settled enough so that she came home to a painted, decorated nursery stocked with furniture and baby gear. I feel like we pretty much tried it all (except a wipes warmer, because everyone we talked to agreed: nah). This time around, as we sifted through all the boxes of stored infant belongings, we only pulled out the essentials.
A mama friend recently challenged me to narrow it down to my three top mommy must-haves in each category. Not the obvious stuff like prenatal vitamins, but the comfort-and-peace-of-mind stuff. For pregnancy, no problem; but for Part II (the newborn phase), I'll have to list a few more than three. No getting around it.
PREGNANCY.
With P, I bought every book known to mankind, pounds of lotions and butters, and a huge yellow exercise ball to sit on. I spent way too much on a maternity wardrobe and ended up actually wearing about half of it (at least I didn't have to buy anything for pregnancy #2!). I'm slowly learning that moderation is key. When I found out I was expecting this time, I knew there were only a couple items I would NEED to have on hand:
1. Bio-Oil: I thought I was a lost cause in the stretch mark department. They say it's a matter of genetics, and most of the women in my family claim to have them. Plus, I already have some myself — on my hips, from puberty — so I figured more were inevitable when I got pregnant with P. I was disappointed, but I knew it would be worth the trade; pregnancy stretch marks are EARNED, mamas. They're battle scars. I hoped I would wear them with pride.
Maybe it was because I was only pregnant for 37 weeks; maybe it was because of the specific way I carried; I have no actual idea. All I know is that I slathered this stuff all over me every time I got out of the shower while my skin was still damp, and somehow I escaped. It's still much too early in the game to tell if it will work this time around, but I'm not one to mess with superstition. I've gone through about two 6.7-ounce bottles already. And if I do earn some badges of honor with Baby Boy by the end of this run, Bio-Oil would still be on my list because it feels good (and by now is sort of a pregnancy tradition).
2. Gap Maternity Supersoft Leggings: Of everything in my maternity wardrobe, these are the staples I come back to again and again. They sit right under your belly without sliding down, which I LOVE — I know some mamas prefer full-panel pants, but I generally find them constricting and claustrophobic and itchy. The waistband is so soft I can't even tell it's there. They're even comfy enough to sleep in (I've done it, and I'm pretty particular about my Sleeping Comfort Level). And it's not like I'm a giant at 5'6″, but I've finally, FINALLY, found leggings that feel long enough. They're almost too long — ALMOST — and I heart them for it. I bought multiples of these puppies because I never want to be without a clean pair (and I'm terrified that they might one day be discontinued). They've held up really well for me, too — I wash them every time I wear them (like, daily) and they still look almost brand new.
Warning: Some reviews complain that these leggings are indecently thin. First of all, I don't find that to be true…but for lounging around the house, who cares? UPDATE: These DO appear to be discontinued — either that, or they've been sold out for months. GAP, WHY DO YOU HATE US?
3. Snoogle: I need an excessive amount of pillows from about mid-pregnancy on. Where I need them depends on the day: something between my knees, something to support the belly, several to prop up my head and torso when heartburn is at its worst. The Snoogle accomplishes many of those things all at once (and is pretty great for nursing, actually, once baby has decided to make an appearance). Unfortunately, it is about the size of a small elephant, so I don't find that it fits into bed with me too well; but for on-the-couch comfort, it's fantastic. Of course, you could always just acquire half a dozen extra pillows and arrange them how you please. NOTE: I prefer the version with the jersey cover, since the pillow case on the "normal" one is virtually IMPOSSIBLE to put on.
Obviously, each pregnancy is vastly different, and depending upon your situation and symptoms, you may need a much longer list. Like, where would I be without my stash of Tums Smoothies these last few weeks? I'm super curious to hear your Pregnancy Lists of Three!
Also, because this weekend's project is to pack for the hospital, I figured I should probably make a list of those essentials, too. I'm certainly not an expert, but this is my attempt at thinking things through and getting organized.
HOSPITAL PACKING LIST: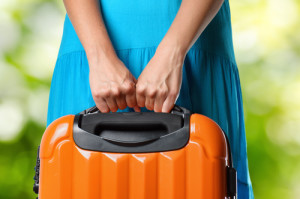 Last time, I WAY underestimated the amount of items our hospital would provide. Most of the things I packed were completely unnecessary and — I realized later — even borderline ridiculous. (Actual underwear? No, honey. You hoard as many of those mesh undies as you possibly can.) Of course, this is a totally different hospital. I haven't even seen the L&D wing where I'll deliver in California — tours are booked out well past my due date. ("What is this? Disneyland?" scoffed an incredulous friend.)
Here's hoping this hospital will be just as generous and prepared as the one in Michigan. If so, this is all I plan to have in my bag:
1. Robe: I did not remove my hospital gown last time, but I feel like it would be kind of nice to wear something that is MINE once I've showered for the first time. (Of course, things get more than a little messy after the fact, so I might just change my mind and stick with the hospital garb.) I went for a lightweight robe that wraps instead of zips: easy access for nursing, and baby's face won't get smushed against plastic or metal zipper teeth.
2. Flip Flops: Because this will presumably happen in either July or August, I'm bringing flip flops instead of cozy, swanky slippers. These will be the one-dollar Old Navy kind that I can throw away the second I'm home.
3. Going-home outfit for me: Since I doubt I'll feel super comfortable wheeling out to the car in my robe, I'll probably throw in some actual clothing. And by clothing, I mean something super fancy like a pair of sweatpants, a nursing bra, and a comfy (maternity?) tank top.
4. Going-home outfit for baby (x 2): The hospital generally provides little white snap shirts, blankets, hats, diapers, you name it. We needed basically nothing for the baby itself. A going-home outfit is the only exception, and since I have no idea how big he'll be, we'll probably bring two: something in a newborn size and also something in a 0-3 (or 3 month) size.
5. Toiletries: I plan to pack the bare minimum to get me through my shower and teeth-brushing routine. Makeup optional — brought it last time and never touched it. Although it might be nice to have a couple photos where I look a little less like a deflated, dark-circled Marshmallow Man and a liiittle more like Duchess Kate (insert uproarious laughter here, because yeah right).
6. Phone charger: Must. Remember. This.
7. Nipple cream: I'm bringing Motherlove. This was a miracle worker with P. I had a jar upstairs and downstairs and I remember it being amazing.
8. Senna-S: This is what the Michigan nurses gave me, bless their souls. Everyone in the world says Colace, but no. This. I will be packing my own bottle just in case the California hospital attempts to give me something else.
9. Kindle & a couple magazines: With Peaches, there was absolutely no time to read a word. Subsequent births are supposed to be even faster (dear God!) but I guess you never really know…
STILL DECIDING…I didn't bring these last time, but they might be nice to have:
10. My Brest Friend: I prefer this to the Boppy for nursing, but I just arranged a bunch of regular pillows last time and it worked out fine. Lord willing, we'll only be in the hospital for a couple days, and I'll use the Brest Friend once we're home.
11. DSLR Camera: This will hopefully get a workout once the baby is home, but I'm not convinced I want to lug this to the hospital. Maybe. We'll see how ambitious I feel.
Speaking of packing, I should probably get on that…