I've never in my life experienced an eighty-degree Halloween — but then again, I've never experienced Halloween in California.
P didn't care WHAT the temperature was. She has been counting down the seconds until she could wear her Elsa dress. This morning, when I went to get her out of bed, she knew the time had come.
"It's Halloween day?!" she gasped. Everything is a day — she says things like morning day and evening day instead of just "in the evening." No idea where she got that, but it kills me.
The festivities began with some homemade doughnut-baking. Turns out we're not the only Michiganders who miss a good cider doughnut — they're nowhere to be found around here — so some also-relocated friends invited us over to create our own. (By "create our own," I mean our hosts were slaving away over bubbling oil while the rest of us sat around and drank spiked cider. These particular friends have excellent culinary skills; they make everything from scratch and it is all delicious and they may or may not be reading this right now. Hi, friends.)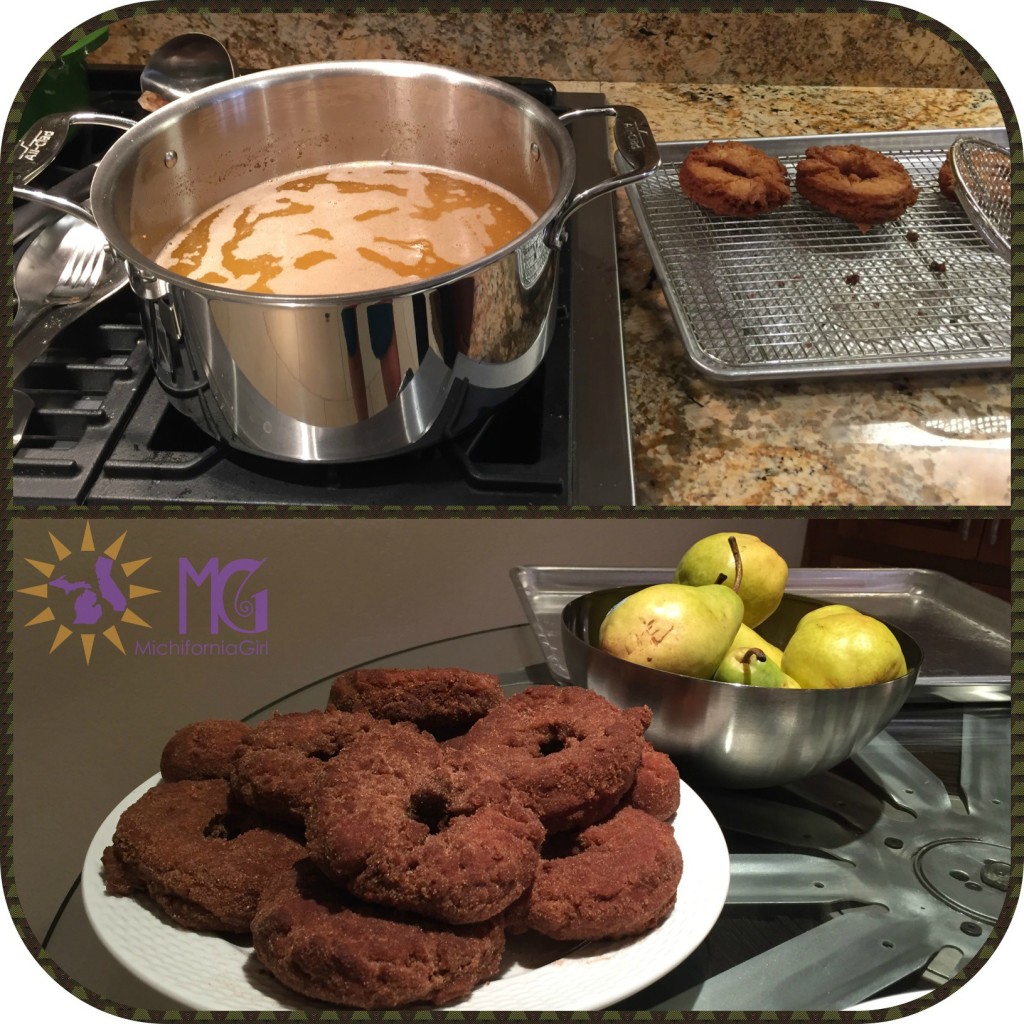 We hustled back to our house to get everyone ready for trick-or-treating, but we didn't exactly have to rush. In Michigan, the kids seemed to start earlier and earlier each year — as in, it was still quite light out when our doorbell started to ring. Here, nobody really showed up until almost 7 PM, and by then it was already dark. We handed out candy for a little while, and then I changed P into her Elsa dress (at the last possible second, because HOLY HELL the glitter).
I remember in my early twenties when it was THE BEST THING EVER to painstakingly plan out a cute costume and put it all together weeks in advance. This year, at P's request, I was supposed to be Anna — so I threw my hair in two braids and put on a skirt. Done. No time for anything elaborate these last couple years. Peaches played along, though: she called me Anna for most of the evening. Oh, excuse me…for most of the evening day.
Baby B had an Olaf hat, but he was asleep in his stroller for most of it, so this was the Peaches Show. There was absolutely zero shyness — she squealed each time she saw a blazing porch light. Which, by the way, wasn't nearly as many as we expected; on our street, maybe thirty percent of the houses participated. What's with that?
The whole eighty degree thing was pretty nice, I have to admit. It was sort of a relief to NOT have to bury the kids' costumes under a heavy jacket and mittens. Last Halloween looked like this:
It was so insanely windy and freezing last year that we were only able to hit two or three houses before her little cheeks grew rosy and chapped. I remember turning around and heading back almost immediately. She likely remembers nothing — she wasn't even two yet. It does make me sad to look at that picture and see how fall is supposed to be: bare branches, crisp leaves, hoods up. (I'm also taken by how green the grass is! This California drought thing is for the birds.)
This time, it was such a joy to see how much she enjoyed every stage: spotting the porch light, ringing the doorbell, saying trick-or-treat, watching the candy drop into her bucket. She usually remembered to say thank you without being prompted.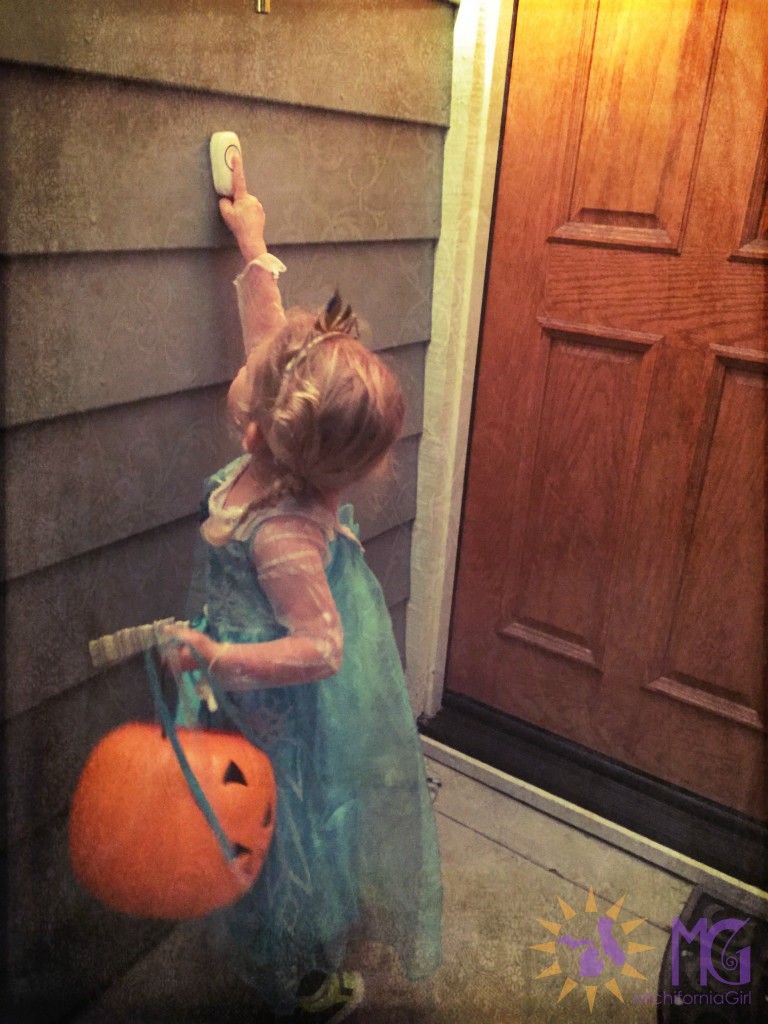 We saw at least three other Elsas, of course. Disney definitely does something right — Frozen is like the ONE movie P's ever seen, and only a handful of times at that — and she is absolutely obsessed. She was THRILLED when her hair was finally long enough to do "a side bwaid." Maybe next year we'll pick something more original, but it's tough to resist something that makes her that happy.
It's been a while since I've enjoyed Halloween this much. Everyone always says how incredible it is to see things through your children's eyes, and that is totally true. I do wish her grandparents could have experienced this with her, though; one set is all the way back in Michigan, and the other is in Virginia. Living so far away from our family still breaks my heart, mostly because of my kids. I was so close with my own grandparents, and I really, really want that for my children.
That said, tomorrow kicks off a little experiment I'm calling No Negativity November. Pretty self-explanatory, I'm sure — but more details to come in my next post.