Peyton Manning may be headed to Disneyland after his big win, but I wouldn't really know. We didn't watch the game because we were, um, at Disneyland.
Hey, don't blame me. I'm not the one who planned it. Al's brother and our new sister-in-law wanted to take Peaches for her birthday, and somehow that weekend made sense. Truth: until the Lions make it to the Super Bowl (ha!), I'm only in it for the commercials and the halftime show.
Thursday and Sunday were travel days. The six-ish hour drive wasn't actually that bad: there were a few excruciating blips of ten-minute meltdowns, but for the most part the road trip was doable. The kids napped for some of it, and we stopped a couple times so I could feed B.
We stayed in a condo that was walking distance from the park. I haven't worn tennis shoes in about four years — it's either sandals or boots for me, always — and as we strapped the kids into the double stroller and headed toward Disney on Friday morning, it was suddenly, painfully clear that I had outgrown my sneakers. At thirty-something years old! QUÉ HORROR. In those trusty size 8's, my toes kept mashing against the front of my shoes as I walked. I'd heard rumors that women's feet sometimes experience a permanent (!) growth spurt during pregnancy, but I obviously didn't think anything of that while I was packing. Awesome. We were two minutes into our day and I already had blisters.
P's reaction to the park was totally worth the pain. Our first stop was the Bibbidi Bobbidi Boutique, which was her three-year-old version of Heaven. She likes fire trucks and snakes and playing games that will scrape up her knees, but she is also obsessed with "pwincesses and pwetty dwesses." If your little one is the same, get thee to the Boutique ASAP.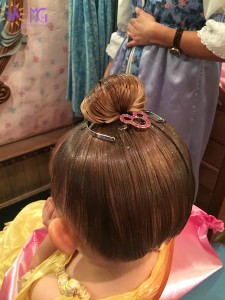 P was escorted to the back of the salon and into a changing area, where she stood before a closed curtain. "Cinderella's mice have been working very hard on your dress," said P's stylist (her stylist!), and she swept back the curtain to reveal the yellow Belle dress P had chosen twenty minutes prior. (The dress is an additional cost, but seemed to be worth it: P wore it ALL DAY and never wanted to take it off. Thanks, Aunt S!) After that, P was helped into a salon chair, where the stylist pulled her curly little locks into a slicked-back princess bun complete with a tiara and sparkles.
She sat so still she was almost afraid to smile, but she was quite enamored with herself when she finally looked in the mirror. They also painted her nails and applied some (very, very light — almost faux) makeup. The whole thing was so adorable. We are drowning in glitter, though — even several days later, IT. IS. EVERYWHERE. On the car seat, in our suitcase, under Baby B's eyes, adorning our food. It wound up in places neither P nor her dress nor her hair ever touched. It is still attached to the treads of our shoes. The glitter is procreating and birthing many, many babies and depositing them into our pores at an alarming speed.
Her absolute favorite thing, though, was meeting Anna and Elsa the next day at the Adventure Park. We stood in line (inside a castle, by the way) for maybe ten minutes, and then P got to knock on a HUGE door straight out of Frozen and ask, "Do you wanna build a snowman?" (It's stuck in my head now, too. Sorry.) When the door swung open, Anna and Elsa were waiting there just for her. P literally squealed as she ran toward them. SHE TEARED UP. So did I.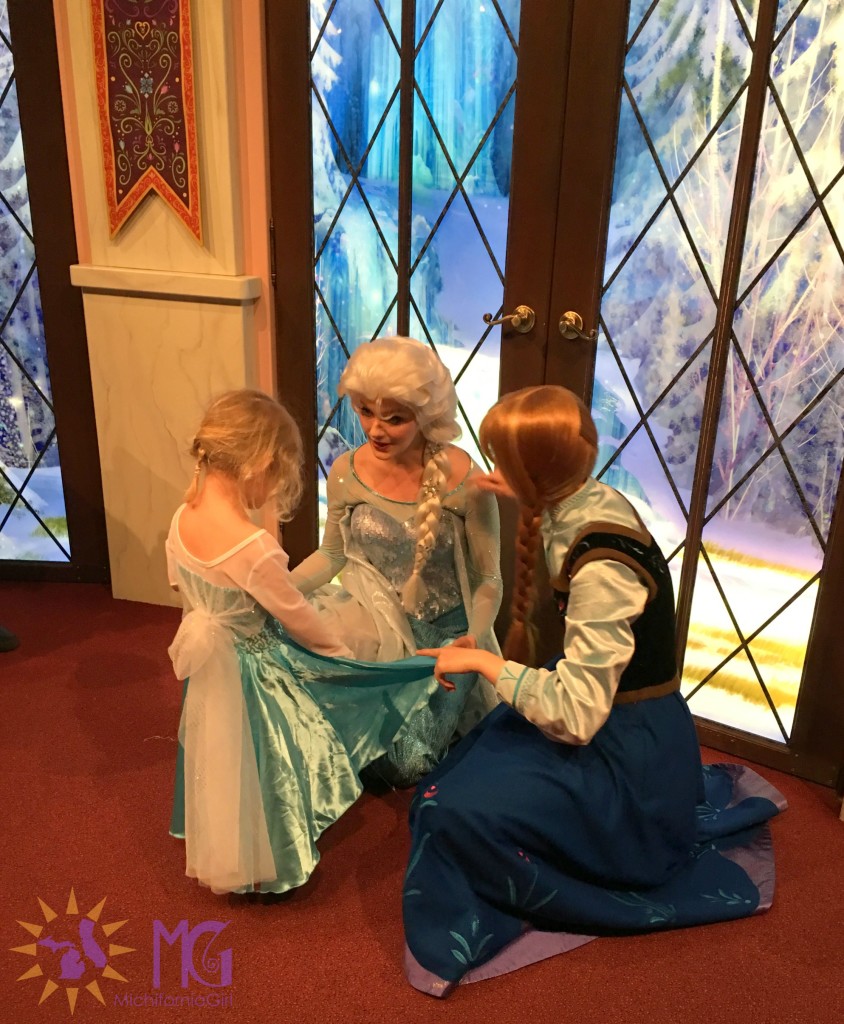 I will say, the entire Disney staff is so well-trained. They are always, always in character, down to their voices and mannerisms. It's amazing. I don't know how much they get paid or if they're all just born with endless reserves of patience, but they make every single child feel like the most important person there.
P's other favorite was the Toy Story ride. She was exactly one-and-a-half inches too short to ride almost everything (and she is TALL for her age), so she went on this one twice. You wear 3D glasses and sit in a jerky, swooping chair thing, and then suddenly the chair stops and you have to shoot at targets on a screen to earn points. She loved it.
Speaking of rides, I, um, don't usually do them. A roller coaster once put my mom in a cast UP TO HER HIP, so that's always in the back of my mind at an amusement park; but really, it has more to do with my phobia than anything else. I do not want to vomit. I do not want anyone to vomit on me. Or near me. Or anywhere within a multi-state radius of me.
But for some reason, I love a good water ride. Splash Mountain is where it's at — although the "characters" on this ride are incredibly bizarre. I don't know what an acid trip feels like, but I think this might be close. Don't do drugs, kids. Just float past the singing, banjo-playing storks in the creepy darkness and it will feel like hallucination enough.
By the way, GET THE FASTPASSES, people. They allow you to legally cut in line. They're free. Why does everyone not do this? Actually, don't. Nope. Forget I said anything.
I'll admit it: at first I wasn't super excited that Disneyland was happening the weekend before the writers conference; but after two days, I went ahead and added Minnie Mouse ears to my accessory wardrobe, because you kinda have to.