No Negativity November began boldly. On the first of the month, we put down a deposit to reserve a plot of land.
We are going to build a house.
Well, WE are not going to build a house. But you understand. We are going to pick out a bunch of stuff and watch enthusiastically as a house gets built by people who know what they're doing.
Before I tell you that story, let me explain my intentions behind NNN — what it is, and what it most definitely isn't. This little experiment is not meant to force me into faking my way through a month of my life. It also does not require all blog posts and conversations with friends to be fluffy and light and overly optimistic. Mainly, it's for the sake of my husband.
Pretty much every day since we moved, I've made some kind of comment about moving back. Aren't I fun? Sometimes it's subtle ("Wouldn't this be a lot easier if we had some family around to help?"). And sometimes, not so much ("This was an enormous mistake!" emoted mid-argument). *Cringe.*
I'm not blind to my actions. I know I'm not giving California a full, fair shot, because some things — like how far away my children live from their grandparents — just trump everything else. But I'm not doing anyone any favors by saying it out loud all the time. So I made up my mind to at least try to implement two things:
1. Stop complaining mentioning this to Al on the daily.
2. In my own brain, attempt to replace "here is why this sucks" thoughts with "here is why this might be a cool opportunity" thoughts.
The goal was to do this for a month in the hope that it would become a habit. Unfortunately, due to something unexpected concerning Al's work, I already failed; there were a couple rough days. But November has a few weeks left. Time to keep trying.
I have to admit, I am genuinely (if cautiously) excited about the house situation. We've been looking at homes since we arrived six months ago; everything is so unbelievably expensive that we were pretty sure we'd have to move into an actual shack, which would still probably cost five million dollars.
Everything is also overcrowded — at least it feels like it to me. Houses are literally ten feet apart. Neighborhoods seem absolutely STUFFED with people. No matter where we looked, I always drove away feeling smothered and like I just needed to stretch out my arms and declare A SPACE THAT IS MINE. But there's no space. And where there is space, according to several real estate agents, it's almost impossible to get permission to build on it.
My OB, who is also from the Midwest, has been in California for about three years. I remember her telling me that she'd waited too long to buy a house. "We kept renting, hoping prices would eventually become reasonable," she said. "But they keep climbing higher and higher. At some point, you just have to cross your fingers and get on the elevator."
So we found ourselves in a serious dilemma: existing houses in our area are priced right out of the question, but we won't be able to afford our current rental for much longer than our year-long lease. Knowing we'd have to make a concession somewhere, we started looking in locations we'd previously deemed too far away.
That was when we happened upon a California rarity: new construction.
Generally, this is how it works in Michigan: a house (or, in this case, a parcel of land) goes up for sale. People look at it. Said people have at least a few days to consider whether or not they're interested, and if so, to come up with an offer. Buyer and seller go back and forth, sometimes with a real estate agent playing middle-man. Often the sale is successful. Just as often, it may not work out. But the point is, there's usually TIME TO THINK.
Here's how it works in California: a house goes up for sale. The asking price is so exorbitant, you're certain you have entered The Twilight Zone. You have fifteen minutes to decide if you want it. Never mind — the answer was actually fourteen minutes. You waited too long. It's been sold.
When we first discovered the new development, we walked through the model, impressed. The initial phase was already sold, so we added ourselves to the mailing list before driving away. Within a few days, they emailed to let us know that one of the lots had opened up.
Foolishly, Al and I sat around and discussed it that evening, as if we had time to mull it over. We considered pros and cons. The only con, really, was his commute to work. To our Michigan brains, the price tag was another knock against it (This is ASTRONOMICAL AND INSANE, we said); but to our California brains, it was comparatively cheap. "I ran some numbers," Al said. "Owning that home will be much, much less per month than what we're paying right now to rent." Ridiculous.
"Should we do it?" I asked. "It's SO far away from your work."
"Let's just try it," he said. "If the drive feels like too much, hopefully we can sell it and move closer. But our monthly payment will go down in the meantime."
We were actually excited. We toasted with a little champagne before we went to bed, because we'd finally made a housing decision and we had some direction. He emailed them to say we wanted to move forward, and asked how much money they'd need to reserve it.
In the morning, I was all set to make the drive. We hesitated for one hour — for just one hour, we got cold feet and asked each other, "Wait…are we SURE?" And within that time, someone else dropped off a check. The lot was gone.
I didn't expect to feel so much disappointment. "I'm so sorry," the real estate agent told me when I called. "Everything's just selling so fast. I sold over five dozen lots before we even had a model."
"When will you be opening the next phase?" I asked.
"We're not sure. Probably not for some time."
But the next day, she emailed again. They were releasing ONE MORE LOT, she said, and we were the first people she contacted. This time, we didn't hesitate.
The houses are still SUPER close together for our Michigan taste, but there is a beautiful view of the mountain, which is something we'd obviously never have back home; and I'm pretty pumped to do the fun stuff, like pick out cabinets and carpet and countertops.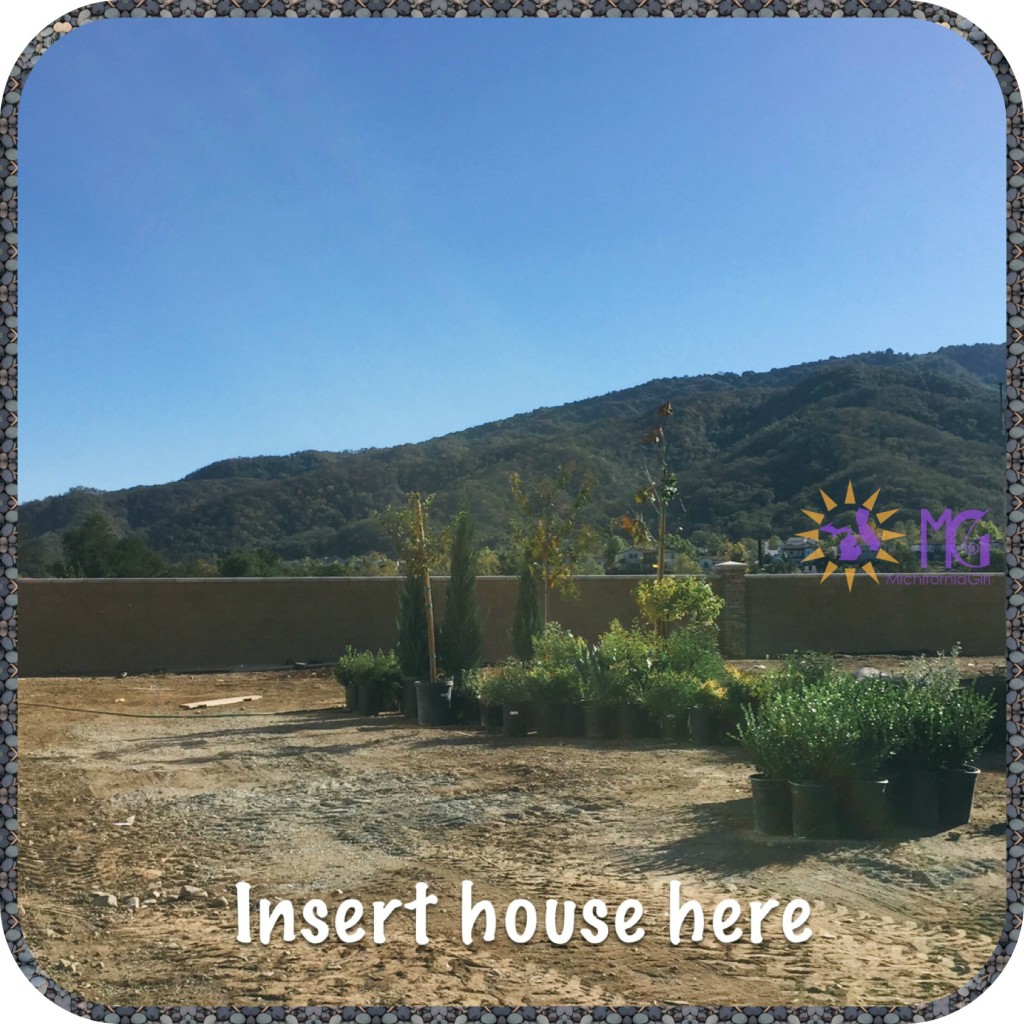 For me, though, there's also an unnerving worry that accompanies this: if we don't "just rent" anymore — if we take the plunge into home ownership — does that mean we're definitely staying forever and ever? A step toward permanence should make a person feel more settled, but it's definitely having the opposite effect at the moment. What if something goes terribly wrong, with his job or the family or our future? What if we need to leave?
For now, I'm looking forward to showing P all the stages of her bedroom, from frame to drywall to paint; to walking around a construction site that is ours; to inhaling the newness. And hopefully that elevator continues to rise, so if we need to, we'll be able to turn around and sell the house…oh, within fourteen minutes or so.